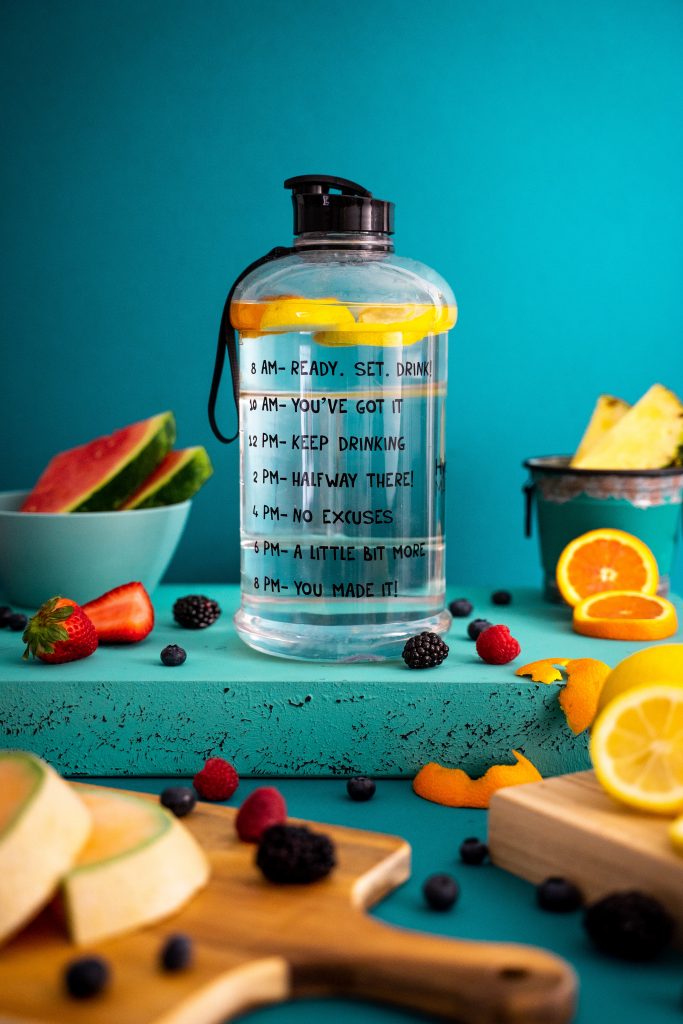 It's easy to forget to stay hydrated and eat well during the summer holidays when we're busy enjoying BBQs, parties, festivals and sunny beach days. It's even trickier to choose healthy options when you're on a budget. We've got lots of simple, budget-friendly tips to help you stay body healthy this summer while you have fun with family and friends…
Start Your Day The Right Way!
Kick your day off with a hearty, healthy breakfast. A good breakfast will boost your energy levels and set you up for the day ahead. Scrambled eggs, wholemeal toast, porridge and smoothies are healthy brekkies that will keep you feeling fuller for longer. If you can't face eating early in the morning, try packing a light snack pack to munch on when you feel peckish – fruit, nuts and protein bars are all good breakfast-on-the-go options.
Hydrate On The Go!
Fill a reusable water bottle every morning to take with you when you leave the house. Not a fan of plain water? Add a splash of sugar-free squash or frozen berries for a fruity twist! You can top up your bottle throughout the day to make sure you hit your goal of 6-8 glasses of water per day. If you find it really difficult to drink that much water, why not try eating some of your daily recommended intake instead? Many fruits and vegetables have a high-water content, including melon, cucumbers, lettuce and celery – and they're great portable snacks!
Coffee For Less
An average takeout coffee costs around £3-4 and while that doesn't seem too expensive, it quickly adds up if you can't resist a few trips to Starbucks or Costa every week. Save money by investing in a good-quality flask and making your own coffee in the morning to take with you when you're on the go. If you're keen to reduce your coffee intake, maybe because it makes you anxious or jittery, you could swap to caffeine-free coffee or tea instead. Read more about the effects of caffeine and how to reduce your intake here.
DIY Lollies
It's important to stay cool and hydrated when it's sunny. A typical box of ice lollies can set you back a pretty penny so try making your own fruity ice lollies to save money. You can pick up cheap ice lolly moulds online and fill them with your favourite fruity drinks or smoothie mix. Freezing tube yoghurts is another low-cost idea if you prefer an icy treat with more dairy.
Make Good Choices
It's easy to overindulge at BBQs and summer picnics, which can leave you feeling over-full and groggy. Balance your plate with a generous dose of salad, fruit or vegetables on the side. Grilled pineapple, freshly chopped strawberries and apples, and a vibrant mixed salad all make excellent picnic and BBQ accompaniments. Discover more about the benefits of eating fruit and veg here.
Alcohol Intake
Be mindful of your alcohol intake over the summer months. While the sun is beating down and the parties, festivals and BBQs are in full swing, the alcohol is usually flowing. Set yourself limits and drink plenty of water between alcoholic drinks. You can also swap your usual favourite tipple for an alcohol-free version. There are lots of great alcohol-free choices available in supermarkets and in the pub. You can have an AF beer while watching the footie and still feel like you're having pints with the lads or sip a fancy mocktail with your lunch. Read more about reducing your alcohol intake here.
Whatever you decide to do this summer, we hope you have an amazing time. Stay safe, stay healthy, and have fun!