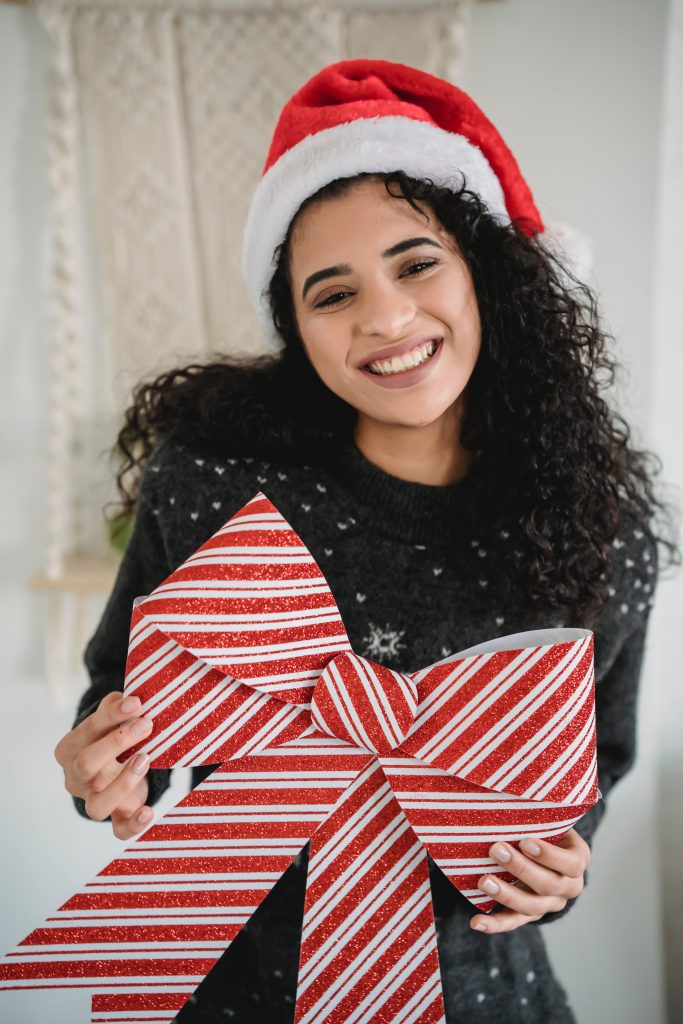 'Tis the season to spread smiles and sprinkle kindness!
It's been another tough year for many of us and Christmas cheer may be thin on the ground this festive season. It's never been more important to remember the true meaning of Christmas and focus on family and friends instead of beating yourself up if you can't afford to shower your loved ones with lavish gifts. Christmas isn't about the presents under the Christmas tree or a table laden with an excessive amount of food – it's about being with the people we love most in the world. You might have to cut back on spending money this year but spending quality time comes for free. This year, you can give the best gift of all: YOU. Give your time, your attention, your effort, your kindness, and your love, and spread Christmas cheer and joy wherever you go.
We Wish You A Merry Christmas
Get into the habit of wishing Merry Christmas to the people you meet during your regular day. Receiving a warm smile and heartfelt festive wishes from a stranger can really make someone's day.
Start A New Family Tradition
One of the best things about Christmas is family traditions. Whether it's baking a Christmas cake together or heading out on a frosty Christmas Day walk, we all cherish these moments and look forward to repeating them every year. Why not start a brand-new Christmas tradition this year? You could suggest something like making decorations together or playing an after-dinner board game – anything that gets everyone together for a blast of fun. Don't worry if it doesn't bring everyone together like you imagined it would and a family squabble erupts – you can always try something else!
Pay It Forward
Paying it forward often involves spending a little money, such as paying for someone else's coffee, but there are a ton of ways you can pay it forward for free. You can donate blood and help to save lives, help an elderly neighbour with their shopping or write appreciative notes for the special people in your life.
Donate Your Time
The gift of charity is something we can all give. You could volunteer to help at a local animal shelter, nursing home or homeless shelter during the festive season and give something back to the community. Your time and dedication can make a massive difference to someone in need at Christmas.
Revive An Old Friendship
Christmas is the perfect time to reconnect with an old friend or someone you haven't seen in a long time. Distance doesn't have to come between you, thanks to the internet. Reach out with a friend request, send an email or write a lovely letter to reignite a relationship you once treasured.
Magical Movie Night
Get everyone together for a movie night and kick off those festive feels! Choose a festive family film, snuggle up warm with blankets and hot choc and tuck into some yummy festive treats for a Christmassy evening to remember.
Spoil Your Colleagues
Festive joy doesn't have to stay between family and friends – why not bring a little Christmas cheer to the workplace? You can bake a batch of cookies, offer to help decorate the office, organise a charity raffle to raise money for a worthy cause or make cute Christmas cards for your colleagues.
Everybody Needs Good Neighbours
As winter bites, elderly neighbours may need a helping hand. Check in with the most vulnerable people in your neighbourhood and offer to help out where you can. You can shovel snow, help someone wrap presents, fetch shopping, or simply spend some time with someone who may be feeling lonely this Christmas.
Offer To Help With Dinner
Preparing and cooking Christmas dinner is a huge undertaking and can be pretty stressful. Offer to help out – an extra pair of hands to peel and chop veg or wash up the never-ending pile of dishes can be a huge help.
Support Your Local Community
You can do a lot to support local businesses this festive season and that doesn't mean you have to spend a fortune eating out or shopping from local boutiques. You have a lot of positive power at your fingertips – literally! Do your bit to promote their business by leaving good reviews for the places you've enjoyed visiting and share their posts advertising their services to help them expand their reach.
We hope you enjoy spreading Christmas cheer wherever you go! If you're looking for more ways to spread a smile, you can find lots of random acts of kindness here.