Learn all about the Jewish Festival of Lights…
Who Celebrates Hanukkah?
Jewish people from across the world celebrate the Hanukkah every year. It's also known as the Jewish Festival of Lights. Families and friends come together over the eight nights of Hanukkah to share feasts and give gifts. Hannukah means 're-dedication' and is a celebration of a miracle that happened a long, long time ago.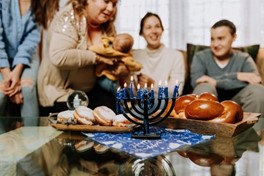 The Story Of Hanukkah
Over 2,00 years ago, the Greeks banned all Jewish rituals and ceremonies, forbidding them to practice their religion. King Antiochus placed a statue of himself inside the Jewish temple and tried to force the Jewish people to bow at its feet and pray to Greek gods, but they refused.
A number of Jews formed a small group called the Maccabees to fight back against King Antiochus. After three years of fighting and war, the Maccabees were victorious but sadly their beloved temple was destroyed.
The Maccabees worked hard to restore their temple to its former glory. When they had finally finished, they had just enough oil to light one lamp in celebration. Miraculously, the little oil lamp burned for eight whole days!
How Is It Celebrated?
To celebrate the eight miraculous days the little oil lamp burned for, Jewish people light the eight candles on a special candlestick known as a Hanukkah menorah. Families also play a special game together with a traditional spinning top called a dreidel.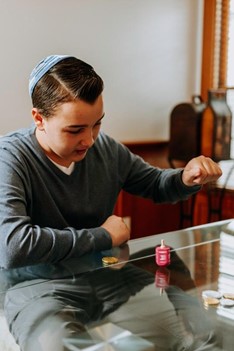 Like many other religious holidays, Hanukkah involves lots of feasting and sharing gifts. Children will receive money and presents, and everyone enjoys spending time with the people they love most.
There's also lots of delicious food and feasting to be had! Traditional Hanukkah dishes include latkes, which is like a potato fritter. For those with a sweet tooth, there are yummy doughnuts (sufganiyot) and wrapped chocolate coins (gelt). Both the latkes and doughnuts are fried in oil to remember the miracle oil lamp lit by the Maccabees.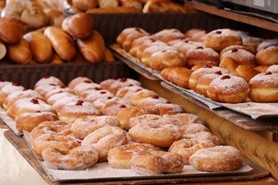 When Is Hanukkah?
Hanukkah lasts for eight days in November and December. It doesn't always land on the same dates because it depends on the Hebrew calendar. This year, Hanukkah will begin on the evening of Sunday 28th November and end on the evening of Monday 6th December.
Hidden Strength wishes you a festival filled with joy and happy moments. Hanukkah Sameach!