Our genes are the biological blueprints that make us who we are. For example, genetics can determine our eye colour, height and even our eating habits, according to researchers. So, could differences in specific genes be the driving force behind weight gain and weight loss?
Silvia Berciano is a researcher at the University of Madrid. Recently, she presented her research to the American Society for Nutrition Scientific Sessions. According to the study, variations of genes affect how the brain works, causing us to eat foods that we know are not healthy for us.
Genes in the brain shape your diet.
In the past, scientists were able to pinpoint genes that influence eating disorders like anorexia or bulimia. However, there was not much known about how small changes in these genes could affect how healthy people eat. This new research looked to be the missing puzzle piece and help explain the relationship between brain genes and eating behaviour.[1]
How the research was done
The genetics of 818 men and women from European backgrounds were analysed. Questionnaires were given to each person taking part in the study and asked questions about their individual diets.
Amazingly, the study found that specific genes play an essential role in a person's food choices and dietary habits. For example, some types of the oxytocin-receptor gene (OXTR) were linked to people who ate a lot of chocolate and had more significant waist sizes. Eating a lot of vegetables and fibre were linked with an obesity-associated gene. A person's intake of salt and fat were related to particular genes, too. [2]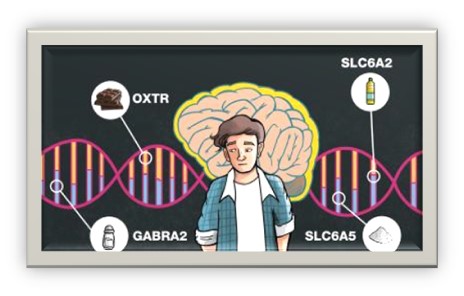 Picture: Gene Variation and Food Choices by Adriano Kitani
What the research means for the future
By finding the specific genes responsible for our intake of certain foods, we may be on the verge of discovering treatments for age-old dietary problems. For example, people at risk of diabetes, cancer or heart disease could receive precise medical guidance. One day, your doctor will be able to look at your genetic makeup and tailor a diet plan that is specifically suited to you.
Silvia Berciano commented on the impact her research could have on the future:
"The knowledge gained through our study will pave the way to better understanding of eating behavior and facilitate the design of personalised dietary advice that will be more amenable to the individual, resulting in better compliance and more successful outcomes."
The scientists who carried out the study are hoping to perform more research soon. By looking at people from different backgrounds and ethnic groups, the results will be more relevant and easier to apply universally. Eventually, the researchers want to see if the genetic variants associated with food intake could increase the risk for health problems.
References
Could genetics influence what we like to eat? Understanding the roles of genes in eating behaviours and food preferences could lead to personalised diets that are easier to follow [Internet]. ScienceDaily. 2017 [cited 2021 Jul 9]. Available from: https://www.sciencedaily.com/releases/2017/04/170424084056.htm
Could genetics influence what we like to eat? [Internet]. EurekAlert! 2017 [cited 2021 Jul 9]. Available from: https://www.eurekalert.org/pub_releases/2017-04/eb2-cgi041217.php
---
[1]Could genetics influence what we like to eat? Understanding the roles of genes in eating behaviours and food preferences could lead to personalised diets that are easier to follow [Internet]. ScienceDaily. 2017 [cited 2021 Jul 9]. Available from: https://www.sciencedaily.com/releases/2017/04/170424084056.htm
[2] Could genetics influence what we like to eat? [Internet]. EurekAlert! 2017 [cited 2021 Jul 9]. Available from: https://www.eurekalert.org/pub_releases/2017-04/eb2-cgi041217.php