Meet the young activists who are making sure our voices are heard on a global platform…
This National Children's Day (May 16) we want to celebrate the amazing youths who continue to speak up for young voices across the world. We're shining a light on two fabulous activists who refuse to give up on important issues such as feminism, oppression, race inequality, climate change and educational rights.
Greta Thunberg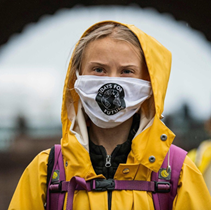 Pic credit: Insta/@gretathunberg
18-year-old Swedish activist, Greta Thunberg, has become a household name – and the face of the fight against climate change. She has zero fear in standing up to world leaders and government officials, calling out injustice and political hypocrisy in her straightforward, no-nonsense manner.
Her famous speech at the 2019 Climate Action Summit, in which she condemned world leaders for their failures in responding to climate change, went viral when she spoke the words "How dare you?". Her passion and convictions were plain for everyone to see and her powerful message was shared across the world.
Hollywood star, Leonardo DiCaprio, who is also passionate about environmental issues, called Greta "a leader of our time." He also added that "Greta's message is a wake-up call to world leaders everywhere," and that the "time for inaction is over."
Greta has Asperger's and while she says it once limited her, she now refers to it as her 'superpower'. She has also been diagnosed with OCD and selective mutism. She's a huge inspiration for young people across the globe.
Amanda Gorman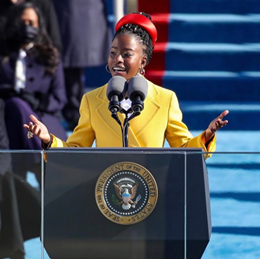 Pic credit: Insta/amandascgorman
Amanda is an American poet and activist who mainly focuses on oppression, feminism, and race. She is the very first National Youth Poet Laurette and delivered her poem The Hill We Climb at the inauguration ceremony of President Joe Biden. The poem encourages unity and looking towards the future in the face of adversity.
Two of Amanda's books rocketed to the top of the bestseller list after her passionate performance, solidifying her as "one to watch" in 2021 and beyond. As a child, Amanda had therapy for her speech impediment and now uses the rhythm of music to help her with her speech. Her message of hope is a real inspiration to young writers everywhere:
"So much gratitude as I look back on how I first started performing poetry years ago despite my speech impediment. All I can say is to any young writer, keep writing. Keep going. Your day will come."
Your Voice Matters!
Take inspiration from Greta and Amanda and make your voice heard. No voice is too small, no issue too unimportant. Whether you want to take steps to stop littering at school or want to encourage people to use less plastic, you can make a difference. Talk to teachers and local council officers, write your local MP or newspaper, join forces with friends and speak up on social media. As Greta once said, "No-one is too small to make a difference, everyone can do something. If everyone did something, then huge differences can happen."
For more ideas and inspiration on making a difference, or to download resource packs for your school, click here.