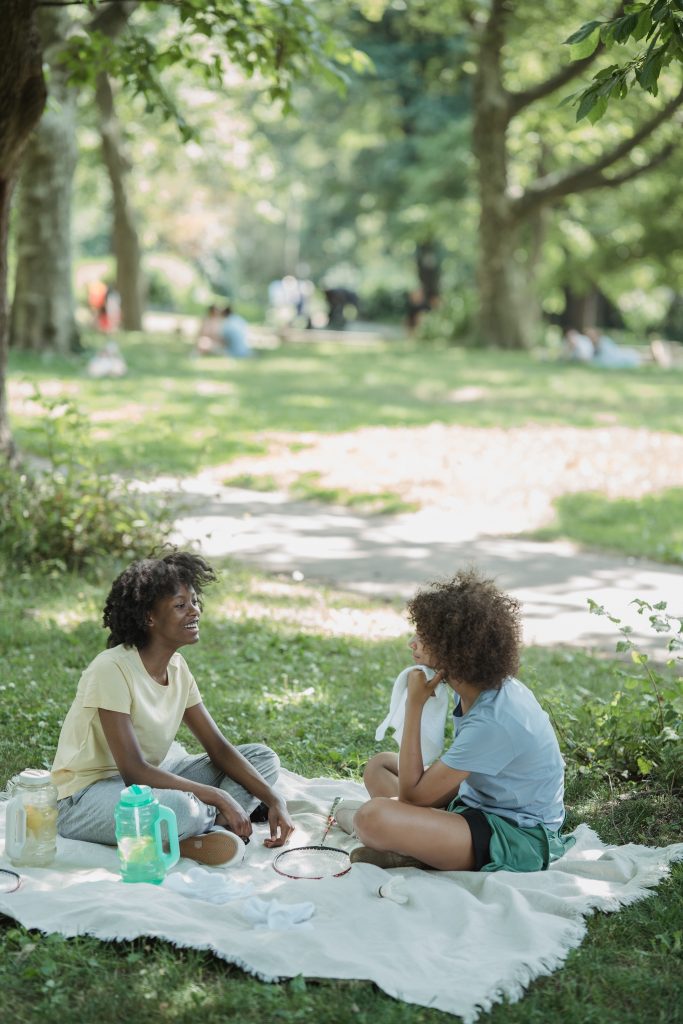 10 ways to make the most of your summer without having to splurge! 
Jetting off on holiday or going on expensive day trips just isn't an option for many of us, especially during a cost-of-living crisis. As the summer holidays stretch out in front of you, you may be wondering just how you'll fill your days, and, most importantly, how you can make the most of your summer on a tight budget…
Here's the good news: you most definitely CAN have fun and spend quality time with family and friends without spending huge amounts of money. Summer holidays are for making lasting memories with those you love most – and you can't put a price tag on that! Here are 10 low-cost or totally free ideas to help you make the most of your summer:
Park Life
Plan a picnic and games day with all your friends in your local park. Everyone can bring along one thing to eat or drink to help keep costs down. Bring a couple of blankets and a ball so you can eat, play and chill in the sunshine all day long! Oh, and don't forget the sunscreen!
Garden Escape
Family squabbles are pretty common during the summer holidays and it's normal for you to crave a bit of space and time for yourself. Create your own sanctuary in the garden where you can chill and relax in peace. You could set up a tent and fill it with comfy blankets and pillows or find a quiet corner to settle down on a blanket with a book and your headphones. Taking some time out can do wonders for your mental health.
Gone Camping
Camping out, whether it's with family or friends, is a great way to reconnect with nature. Outdoor living simplifies everything and soothes the soul. It's a brilliant way to practice mindfulness and live in the moment. You don't have to book into an expensive campsite; you can camp at home in the garden or head out into the countryside – just make sure you have permission to set up camp and follow the countryside code to protect nature, and keep yourself and others safe: https://www.countryfile.com/how-to/outdoor-skills/your-five-minute-guide-to-the-countryside-code/
Summer Skill
Why not set yourself a goal to learn a new skill this summer? Whether it's learning an instrument or acing a sport, you can find lots of free resources and tutorials either online or at your local library. Plus, you'll often find discounted classes and taster lessons on offer throughout the summer – check out your local council or Facebook pages to see what's on offer in your area.
Movie Magic
A trip to the cinema usually equals a hefty dent in your bank balance. Tickets are pricey and don't even get us started on the price of popcorn… Save yourself a lot of money and invite your mates over for a night in at the movies! Ask each of your guests to bring a movie snack to spread the cost. A fun idea (and a great photo moment for your socials!) is to ask everyone to come dressed as their favourite movie star or as a character from the movie you plan to watch.
Beachy Vibes
A day at the beach is always a day well spent. Grab your friends, towels, sunscreen and a picnic and hit the dunes! If it's too far to travel to your nearest beach, you can recreate the beach vibes at home – fill a paddling pool, lay out some towels and invite your mates over to spend the day with you.
Adventure Is Out There!
Hiking and bike rides won't cost you a penny and are a brilliant way to get out and about in the fresh air, which is great for your mental health and wellbeing. You can use free apps to help you plan your routes and keep you safe, and make sure you tell an adult where you're going before you set off.
Volunteer Your Time
'Working for free during the summer holidays?! Umm, no thanks!'
Hear us out… volunteering is an excellent way to boost your mental health and wellbeing, and your confidence. Plus, it's a good way to fill your days and we all know that the summer holidays can be a bit of a bore at times. So why not sign up to help a local organisation or charity such as a food bank, kids' sports team or animal sanctuary this summer? By giving just a few hours of your time every week, you'll gain valuable skills, improve your wellbeing and meet lots of new people!
Dear Diary
If you enjoy writing, why not keep a summer diary? Fill it with your plans for the weeks ahead, scribble down funny things that happen when you're out and about with your friends and make notes about special moments with your family. Keeping a diary is a great mindfulness activity because it requires focus and clarifies your thoughts. It's also beneficial to your mental wellbeing – any worries or anxieties you may have always seem easier to deal with when you get them out of your head and onto paper.
Holiday At Home
Get your family on board with this one! If you can't afford to jet off abroad, why not bring the world to your own home and garden? Pick a country and plan a whole day of activities and food/drink around it to create holiday vibes in the comfort of your own home. One day you might pick Spain and enjoy eating tapas-style nibbly bits, another day you could choose Italy and have pizza and pasta outdoors in the sunshine. Plan some country-themed games or split into teams and hold a quiz about your chosen country to get everyone involved!